All That is the Trendy, Modern Wedding!
The modern, trendy wedding can have a few variations. Every one has different opinions on what looks good and what doesn't. Just because it's in vogue doesn't mean that a, normally, trendy and modern man or woman would like it. Style makes the world beautiful. Style is beautiful because everyone has a different style. While some of our styles and looks are similar, we are all different. Our big days are also going to look different. While some couples may like the more modern sharp edges looks, others may like a more casual or down home look. Some couples love bright colors and others may like more earthy tones. What we all can agree on though is that our big day is a big deal. It's special and very significant. So use this as encouragement to be yourself while still staying your kind of trendy!

For the Vogue!

Vogue is the trendy couples bread and butter. Did you know that most major style magazines have wedding additions? They don't circulate with the normal magazine subscription so you'll have to special order it. It's chocked full of ideas and beautiful designs. Also, don't worry about the budget. Not many brides can afford Vogue prices. So, go DIY (do it yourself). Find similar materials or decorations. Recruit some friends to help find and build the things that you can so you have the room to buy THE dress. Don't go cheap on the dress. Find the perfect dress and build around that.
For the Casual!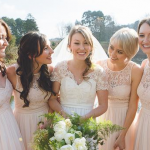 If your dream wedding is more casual than trendy please don't be afraid. You don't need all the up and up things to complete your dream day. If you prefer the groom in a nice shirt and dress pants instead of a full on tuxedo, then let your style shine. With a casual wedding you have more room for those bright colors. With a more simple look you have more room to pick whichever colors you like. With more modern looks you may be stuck with certain colors because that's what's on trend. Choose whichever colors reflect your big day best. In the end, it's the couple who has to relive it and look at the photos. Be you!
For Those Down Home Folks!
Maybe you neither of those two type of people. Maybe you're a bit more down to earth. Literally. Has anyone else seen Pinterest blowing up with all of these "country" style weddings. From mason jars to the bride in cowgirl style boots. Many of us can agree that these weddings have a special beauty to them. It also takes a special person to have them. If this isn't your taste then veer far away. While a modern wedding could take a few ideas from a country wedding, it takes true country folk to see the full beauty in it.
In the end it's best to utilize every tool you can when coming up with ideas for the big day. Use websites, magazines, blogs and personal tips from others who have already planned a beautiful wedding. Remember that this is just one day in a hopeful bunch of many. Worry about the years you'll spend together over the perfection of just one of those days. Stay true to each other and live, laugh and love!